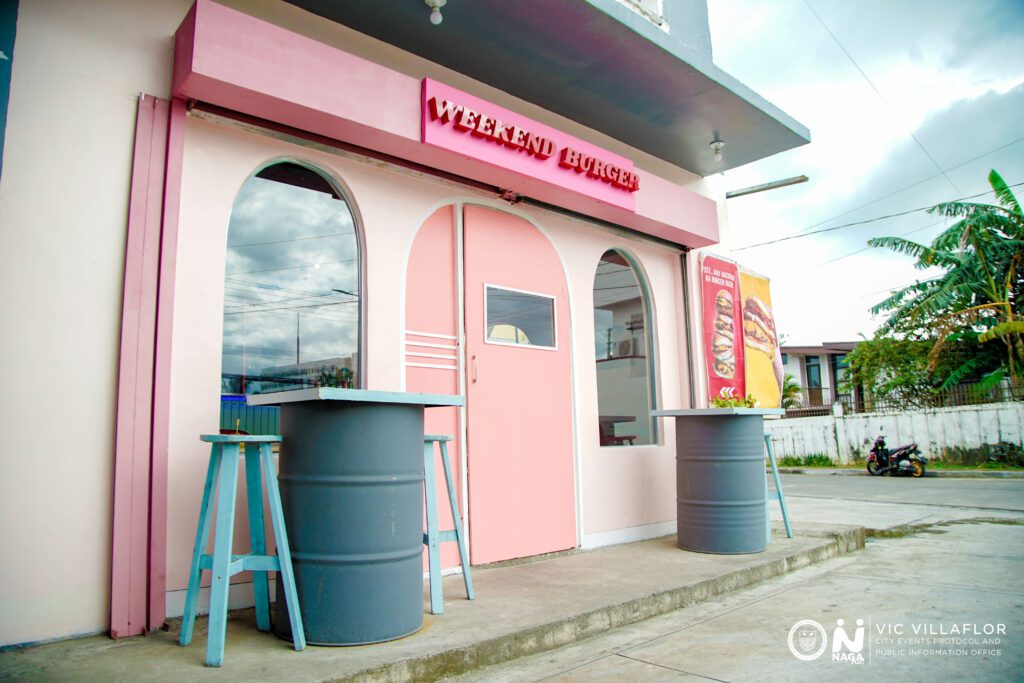 It's quite rare to relive that nostalgic diner feel here in Naga. Though the diner aesthetic has been co-opted by Bigg's Diner here in Bicol, sometimes you look for a different Americana vibe that's a little bit more youthful than usual. This is when we came across this quaint burger shop along Magsaysay that makes you feel like the weekend every day: welcome to Weekend Burger.
Weekend Burger is a restaurant focused on the classic combo of burgers, fries, and milkshakes. This is no surprise. Even the interior of their shop is highly reminiscent of a diner. One of my coworkers in the office brought up Pop's Chock'lit Shoppe, a fictional diner from Archie comics, and to the younger generation, the CW show Riverdale. And you know what we see the resemblance. The pink, vapor-wave walls and the neon lights bring out that vibe, especially at night.
But it's not all about the aesthetic, the burgers are ridiculous. Like in a good way! Flame-grilled patties at a reasonably priced range, topped with ingredients that are unique to their style of burger. Cheeseburgers, smash burgers, even chicken sandwiches. You name it, they probably have it. The secret to a great burger is the quality ingredients used and the thought put into the preparation of it, and with Weekend Burger, it shows.
Even though they shine with their burgers, they also have sides that pair well with these greasy creations. Fries topped with melted cheese and bacon, nachos with a tangy cheese dip on the side. They even have rice meals if you are so inclined to have a filling lunch.
And of course, we can't forget about the staple of any burger joint: the milkshake. It is so hard to get a proper milkshake. Like an actual milkshake, with chocolate ice cream and chocolate fudge as the main shake ingredients. Eat your heart out Shake Shack. Weekend Burger already has you beaten. And if this sweet treat isn't more your style, try their alcoholic creations or maybe a coffee to cap your day off, featuring coffee from Haldao, a local coffee provider here in the city.
Weekend Burger is such a treat. Their food items are some of the usual fares, but they make it so well and each burger creation has personality with the taste to back it up. It is one of our favorites here in the office and we are so happy to put them up in the spotlight this week!
Weekend Burger is open every day. Mondays at 3:00 p.m. to 12 midnight and Tuesdays to Sunday at 3:00 p.m. to 2:00 a.m.
(Agnete Jonathan Noble, CEPPIO.)