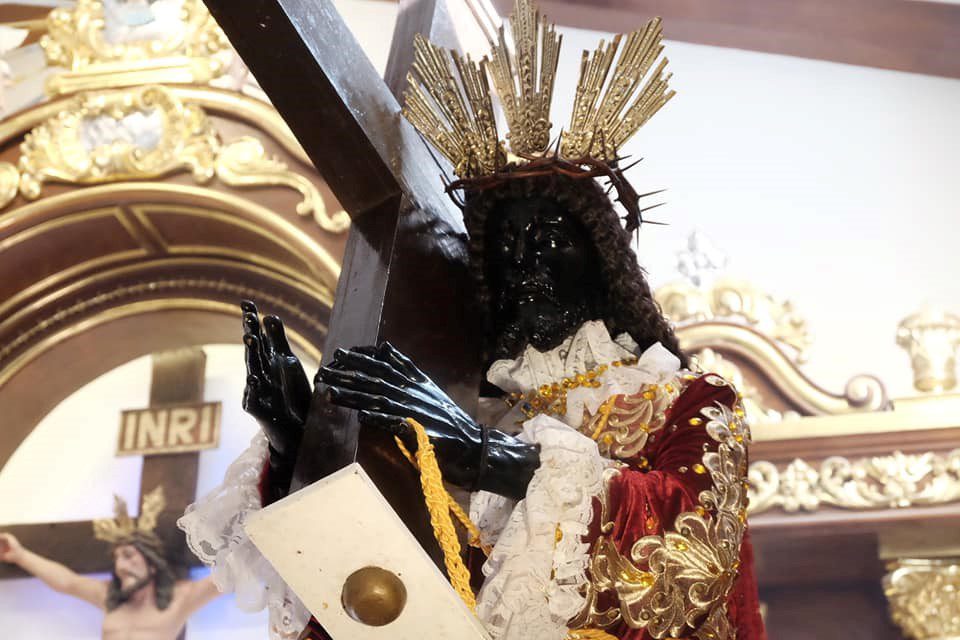 SEVERAL hundred devotees of the Black Nazarene in Bicol Region are expected to troop to the Holy Cross Parish in Barangay Tabuco on January 9 this year to participate in the penitential procession that is expected to last 2 hours around the city's historical Central Business District or Centro.
The procession, which coincides with the one being undertaken traditionally in Quiapo, Manila, is one of the major events being conducted in the city for 34 years now.
As prelude to the January 9 feast day, daily recitation of the holy rosary, novena and singing of perdon, and celebration of Misa Novenario in honor of Amang Nazareno are currently being conducted at the Holy Cross Parish in Barangay Tabuco.
The religious rites began on December 31, 2022 and will continue daily from 3 o'clock in the afternoon to 5:30 PM until January 8.
On January 8, at 6:30 in the evening, a traslacion procession will kick off from the parish to carry the image and the replicas of the Our Lady of Peace and Good Voyage also known as the Our Lady of Antipolo to the Plaza Quezon in Centro Naga. The image of the Black Nazarene will stay until January 9 at the Plaza for public viewing and "pahadok". The pahadok is a tradition and part of a culture not only of Catholics but especially of the devotees of the Nazarene who want to touch the venerated image of Jesus Christ.
Replicas of the Black Nazarene and the Lady owned by private families will be brought to the Plaza on January 8 by way of a traslacion procession. There will be a blessing of these replicas at the Plaza.
Rev. Fr. Eugene Lubigan, parish priest of the Holy Cross Parish, however, said that the pahadok this year will only be allowed by way of touching or wiping the image using a cotton moist with rose or baby oil to be provided by the members of the Hijos de Nazareno Bicol Unit Association.
"Pahadok does not literally mean that a pilgrim or a devotee will be kissing the image of Amang Nazareno as we still have to observe certain health and safety protocols against the Covid-19," Brother Nico Sirios clarified. Sirios heads the committee on temporalities of the association.
Before the conduct of the penitential foot procession in the evening of January 9, this year, five fiesta masses are to be celebrated on the following hours: 6:00 in the morning, 9 o'clock AM, 12:00 noon, 3 o'clock PM and the pontifical concelebrated mass at 5:00 PM with Most Rev. Jose Alan Dialogo, Bishop of Sorsogon.
Following Bishop Dialogo's Pontifical Mass is the foot procession leading to the Tabuco church. The procession will pass the streets of Elias Angeles, P. Burgos, Peñafrancia Avenue, Santonja, General Luna, and the Tabuco Bridge back to the Holy Cross Parish.
(Jason B. Neola, CEPPIO.)