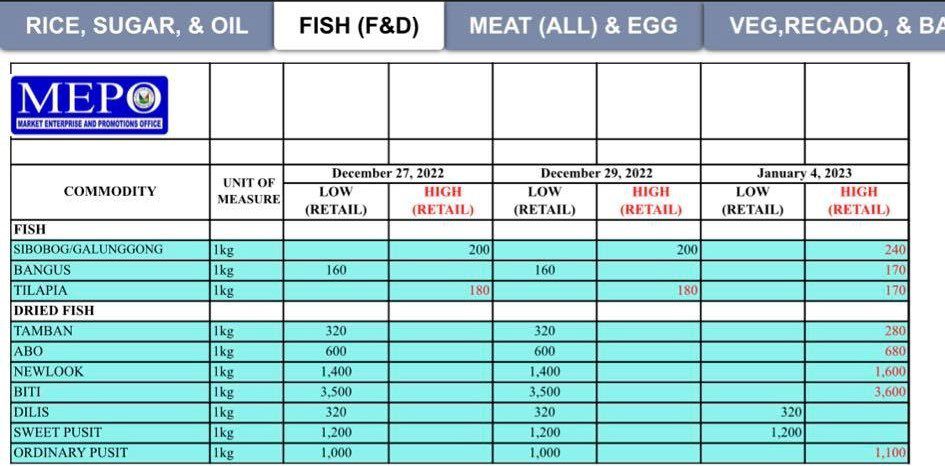 Kinumpirmar ni Konsehal Jessie Albeus, Chairman kan Committee on Consumers' Protection kan Sangguniang Panlungsod na dae nagpaotob nin price freeze an Department of Trade and Industry sa kada kilo nin sirang pandagat.
Segun ki Albeus, huli sa mauran na panahon apektado an supply kan sira sa kadagatan kaya limitado an production sa merkado asin dae makontrol an paglangkaw kan presyo kada kilo.
Sa hineras na datos kan konsehal gikan sa Market Enterprise and Promotions Office, nag-abot na sa P240.00 an kada kilo kan sibobog sa Naga City People's Mall kan Enero 4, mas halangkaw sa P200.00 na nanutaran kan huring semana kan Disyembre.
Apwera sa sibobo, naglangkaw na man an presyo kada kilo kan bangus, nag-abot sa P170.00 na dating P160.00. Sa ibong kaini, nagbaba sa P170.00 an kilo kan tilapia na dating P180.00 an presyo.
Sa dried fish: Nagbaba an presyo kada kilo kan tamban sa P280.00 na dating P320.00 alagad nagralangkawan an presyo kada kilo kan abo – P680.00, dating P600.00; newlook – P1,600.00 na dating P1,400.00; biti – P3,600.00 na dating P3,500.00 asin ordinary pusit – P1,100.00 na dating P1,000.00.
Mantenido man an presyo kada kilo kan dilis sa P320.00 asin sweet pusit – P1,200.00.
(Paulo Delos Santos, CEPPIO.)