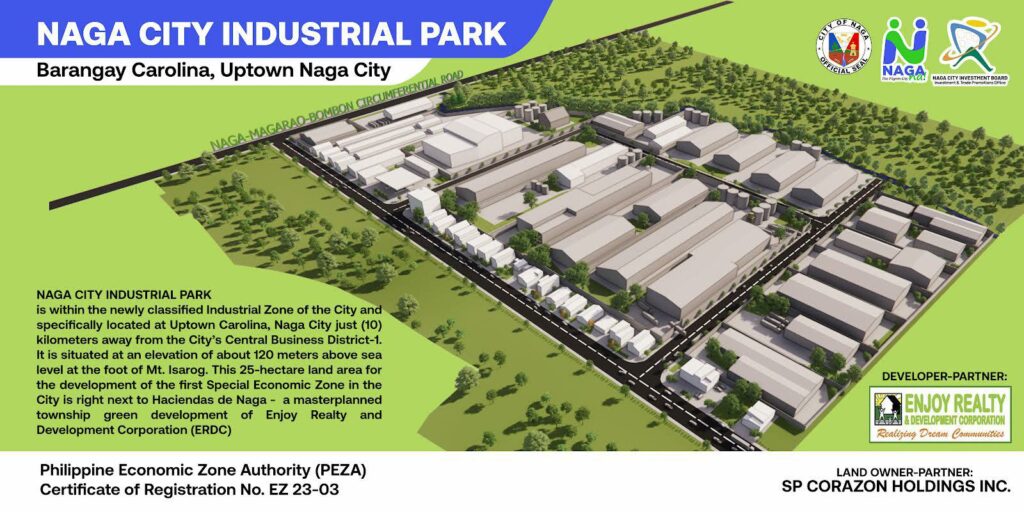 IN a significant milestone for Naga City and the Bicol Region, the Naga City Industrial Park (NCIP) has been declared a Special Economic Zone, marking a new era of industrial development in the area. This ecozone, managed by Enjoy Realty and Development Corp. (ERDC), promises to bring economic prosperity and employment opportunities while bolstering the country's export manufacturing sector.
What is the Naga City Industrial Park?
The Naga City Industrial Park is a registered Special Economic Zone with the Philippine Economic Zone Authority (PEZA). It primarily caters to light manufacturing industries focused on high-value engineering products destined for export. Often referred to as Export Processing Zone (EPZ), NCIP is the first of its kind in Naga and the Bicol Region.
The Benefits of an Industrial Ecozone
Industrial ecozones like NCIP have proven instrumental in driving investments in export manufacturing, spurring economic growth across regions. Export manufacturers are attracted to ecozones due to a range of incentives, including tax and duty-free importation, exemption from national and local taxes, and even the possibility of permanent resident status for foreign investors.
Location and Size
Situated along Nursery Road in Barangay Carolina, NCIP covers more than 25 hectares of land, with room for future expansion. This size aligns with PEZA's minimum land area requirements for industrial ecozones.
Features and Facilities
NCIP boasts industrial lots for sale or lease, a commercial strip for up to sixteen establishments, a public transport terminal, cargo terminal, power sub-station, water treatment facility, and a gasoline station. These amenities create a conducive environment for businesses to thrive.
Job Creation and Economic Impact
The establishment of NCIP is expected to result in a significant economic boost for Naga City and the Bicol region. Investment from manufacturing firms is predicted to be in the billions of pesos, generating thousands of direct manufacturing jobs. Fuji Industries Naga Corp., the first ecozone locator, alone anticipates employing 1,500 people at full operation. Extrapolating from this figure, NCIP could potentially create up to 12,000 direct jobs for the region. Additionally, the ecozone will stimulate the growth of support industries, further increasing employment opportunities.
The Genesis of NCIP
The journey towards establishing NCIP began in 2015 when the Naga City Investment Board (NCIB) successfully persuaded Fuji Industries Corp. to expand its operations in the city. This led to the signing of a Tripartite Agreement in 2016 involving Fuji Industries, ERDC (the developer), and the City Government. The application for NCIP to be recognized as an ecozone was submitted to PEZA in the third quarter of 2017.
Presidential Proclamation: A Milestone
The culmination of these efforts came on July 25, 2023, when H.E. Ferdinand R. Marcos, Jr. issued Presidential Proclamation 299, officially designating NCIP as a Special Economic Zone. A PEZA Certificate of Registration followed shortly after. This process involved multiple reviews, endorsements, and transmittals through various government offices.
Not the Only Ecozone in Town
While NCIP holds a unique position as the only industrial and manufacturing ecozone in Naga City, there are other types of ecozones in the area, such as agro-industrial, tourism, medical tourism, and IT parks/centers. The presence of these zones diversifies Naga City's economic landscape and promotes further development.
The Naga City Industrial Park represents a promising chapter in the city's economic growth, attracting investment, creating jobs, and fostering regional development. As it continues to evolve and expand, it is poised to become a vital hub for export manufacturing in the Philippines.