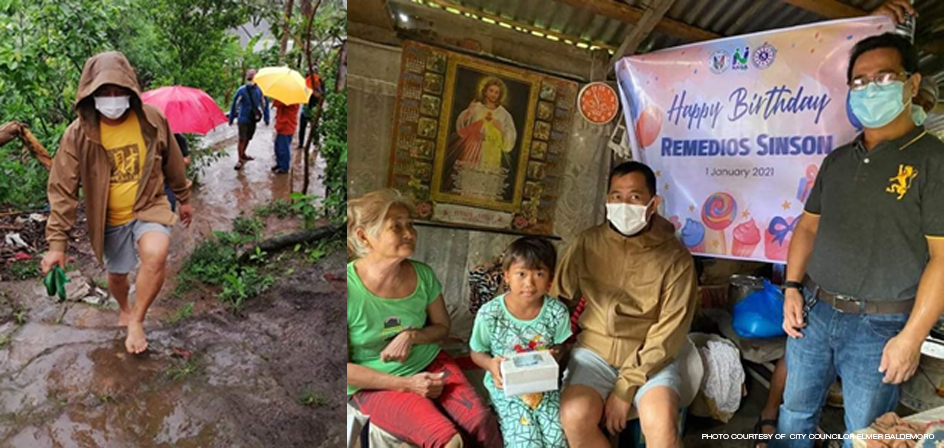 NAGA CITY — Beginning on the first day of 2021, each registered PWD here shall receive a birthday cake from the city government as provided for in an ordinance that codified all the city government's policies and programs on persons with disabilities (PWDs).
The ordinance's other privileges and incentives provision also include a P500-worth of food allowance monthly for indigent bedridden and indigent abandoned PWDs who are registered with the Persons with Disability Affairs Office (PDAO).
Aside from 71-year-old Nanay Remedios, there were 24other PWD birthday celebrants who received their birthday cakes from the city government on that rainy day of January 1, 2021.
For this year, LGU Naga has listed down 99 birthday celebrants for the entire month of January in all the city's 27 barangays while it registered around 4,600 for the whole year who were diagnosed to be suffering from various disabilities such as hearing disability, visual disability, disability on speech/communication, physical disability (due to chronic and rare illnesses), orthopedic disability, intellectual disability, psychosocial disability, and multiple disabilities.
Ordinance No. 2020-072, which was authored by City Councilor Elmer Baldemoro, allowed LGU Naga to provide every member of the sector with all the necessary protection and benefits, and set the manner on how the privileges, incentives and benefits enumerated in the ordinance can be availed.
Other privileges and incentives include 20% discount on essential goods and exemption from value-added tax, discounts on basic commodities, priority in express lanes, free movies, shelter program, granting of loan assistance in the purchase of padyak units and free-of-charge franchise assistance.
Mayor Nelson Legacion said: "The goodness of this ordinance is that it enables to raise the level of one's awareness about PWD rights and privileges in the city in a single document as it lays down all the policies that would make their implementation efficient, expeditious, and effective.
The measure tackles services and programs for PWDs from issuance of ePWD IDs to PWD database and PWD rights and privileges to different allowances and assistance including burial.
It discusses also the delivery of medical assistance and health services, auxiliary services and access to information including barrier-free environment, transportation, mobility, and parking spaces for PWDs not to mention the benefits they can avail under the ordinance's political and civil rights provisions.