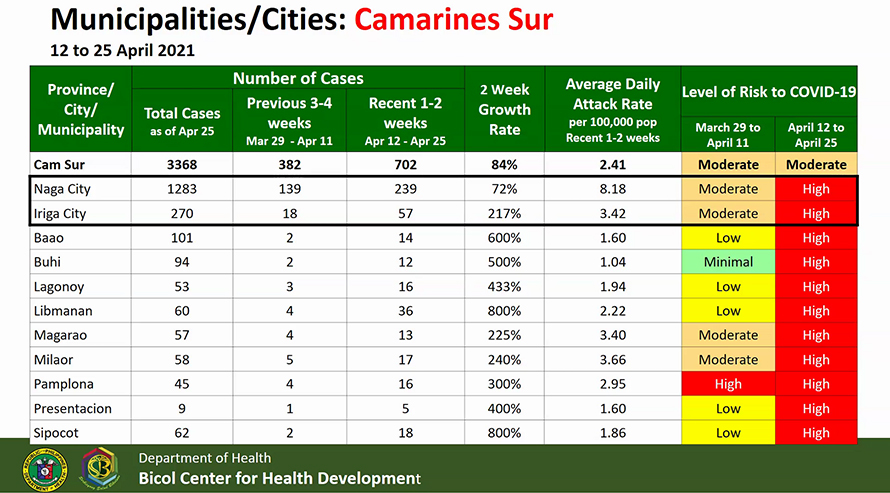 Due to escalating number of coronavirus disease 2019 (Covid-19) cases that reaches an average of 20 infections every day, the city of Naga was classified as "high risk" by the regional office of the Department of Health along with Iriga City and 9 towns in Camarines Sur.
This was bared by DOH Assistant Regional Director John Ferchito Avelino, M.D. in a meeting called by the Bicol Inter Agency Task Force on Emerging and Infectious Diseases with the local chief executives of different local government units in the province on Tuesday, April 27, this year.
The assembly, which discussed the status of Covid-19 cases in Camarines Sur's 35 municipalities and 2 cities, was also participated in by the punong barangays from each area.
The 9 municipalities which were also categorized as high risk are: Baao, Buhi, Lagonoy, Libmanan, Magarao, Milaor, Pamplona, Presentacion, and Sipocot.
DOH said that Naga's "high risk" status was considered when its cases of infection has gone up to 239 from April 12 to 25, this year. In previous weeks being under the "moderate risk" status (covering the March 29-April 11period), the city had 139 cases.
The data shows that Naga has recorded 72% growth rate in 2 weeks' time posting an average daily attack rate of 8 persons getting infected daily in every 100,000 people. Naga has at least 250,000 inhabitants.
In view of such situation, Allen Reondanga, head of City Events, Protocol, and Public Information Office (CEPPIO), said that upon instructions by the DOH, the city must now adopt the safety and health protocols being implemented in areas declared under enhanced community quarantine (ECQ) despite its present modified general community quarantine (MGCQ) standing.
Reondanga explained that Naga as independent component city could only be declared under ECQ by the national IATF thru Bicol IATF recommendation.
The key health and safety guidelines that the city was advised to adopt with its "high risk" classification:
Nagueños must have that mentality or mindset of living in an area placed under ECQ
Strict and continuous implementation of the active case-finding approach by which a larger number of infected persons are identified and appropriately acted upon. The strategy will help to limit the transmission of the virus
Strict and continuous implementation of enhanced contact-tracing efforts on primary and secondary contacts, and;
Strict and continuous implementation of e-Salvar QR Code on every person who comes in and goes out of a building or establishment.