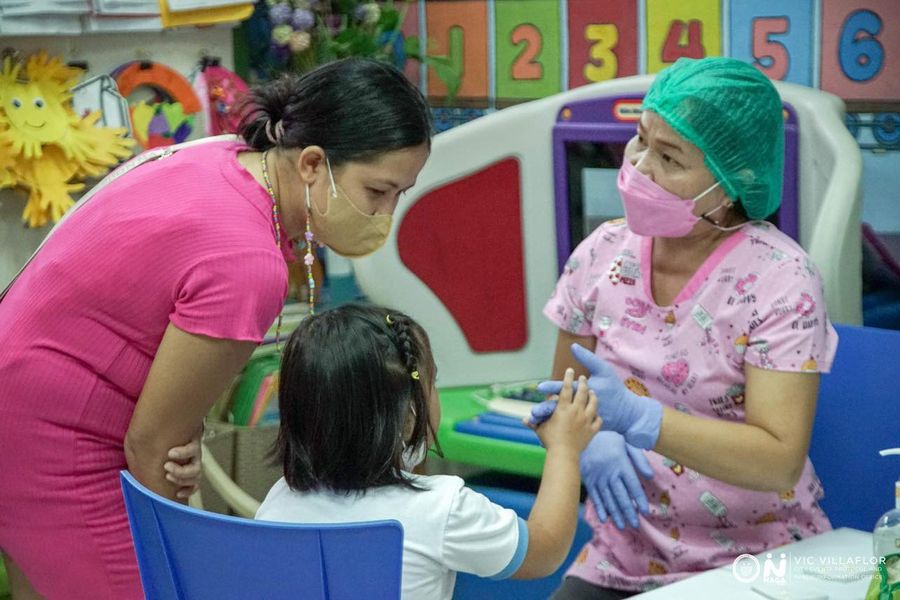 A viral disease common for children aged 5 and younger is what the City Epidemiology and Surveillance Unit (CESU) of the City Health Office has been monitoring following reports of hand, foot, and mouth disease (HFMD) infections among kids in public and private schools in the city. 
The unit has registered at least 16 cases of HFMD in the city for the October 30 to December 5 period.   
Latest report says that DOH Manila has confirmed an increasing case of the viral disease but, there is no declaration of an outbreak yet for such.      
CESU Chief Maria Corazon Divine Onza said that last week her office has received reports about some Grade 2 pupils in a public elementary school situated in Barangay Peñafrancia who got infected with the Coxsackieviruses that can be found in hand, foot, and mouth disease (HFMD).  
A school insider told this paper that there are rumors circulating between groups of parents that say among those who got infected also were a large number of pupils in Grades 3 and 4.
The transmission of the virus has allegedly reached a private school, a report which the CESU head has yet to confirm.   
Since last Thursday, Dec. 8, CESU has not come up yet with the updated and actual number of persons infected by the virus inside the school due to the apparent uncooperative attitude by those in the office of the school principal and teachers who preferred to keep mum about the reports.
Onza even criticized the practice by some clinics in the city wherein results of diagnosis they conducted on individuals suspected to have been contaminated with the virus are being withheld, which, according to her, is a violation of Republic Act 3573, otherwise known as the "Law on Reporting of Communicable Diseases."
The law mandates all individuals and health facilities to report notifiable diseases to national and local health authorities like the CESU of the City Health Office.  
A health advisory from the Department of Health said Coxsackieviruses are a few related enteroviruses that belong to the Picornaviridae family of non-enveloped, linear, positive-sense single-stranded RNA viruses, as well as its genus Enterovirus, which also includes poliovirus and echovirus.
City Health Office Head Vito Borja, M.D., said that HFMD is a common viral illness of infants and children.  "It [HFMD] should not be confused with foot-and-mouth (also called hoof-and-mouth) disease of cattle, sheep, and swine.  HFMD cannot be contracted from pets or animals.
He said individuals infected with the Coxsackievirus are most contagious during the first week of their illness.  Its incubation period is 2-14 days. 
Enteroviruses are among the most common and important human pathogens, and ordinarily its members are transmitted by the fecal–oral route. Coxsackieviruses share many characteristics with poliovirus. With control of poliovirus infections in much of the world, more attention has been focused on understanding the non-polio enteroviruses such as Coxsackieviruses.
In an interview, Onza said that the disease spreads by contact with nose and throat discharges, saliva of infected persons, and/or touching contaminated objects. 
The advisory said people infected with hand-foot-mouth disease can spread the virus to others when they cough or sneeze.  One can also get the disease if the individual come into contact with an infected person's blister fluid or feces (poop).
Onza said the risk of being infected can be lessened by washing hands with soap and water for at least 20 seconds, disinfecting surfaces and items, and avoiding close contact such as kissing, hugging or sharing eating-utensils or cups with infected people.      
Coxsackieviruses are among the leading causes of aseptic meningitis (the other usual suspects being echovirus and mumps virus).  
The advisory said that no specific treatment can be recommended aside from relieving the symptoms (fever and sore throat) directly.  It said a topical oral anaesthetic may help relieve the pain of mouth sores.
It said that over-the-counter pain medications other than aspirin, such as acetaminophen or ibuprofen, may help relieve general discomfort.      
HFMD symptoms include: A red rash on the palms, feet, and mouth and without itching but sometimes with blistering soles and sometimes the buttocks; feeling of being unwell/discomfort; irritability in infants and toddlers; fever; poor appetite; sore throat, and headache
In Albay province, the GMA Integrated news reported on November 27 that the Provincial Epidemiology and Surveillance Unit has recorded a total of 541 cases of hand-foot-mouth disease (HFMD) for the November 15-25 period.
The HFMD cases were recorded in 10 towns and two cities.  The municipality of Oas had the most cases with 162, followed by Legazpi City and Guinobatan.  Majority of the cases were children aged one to 10 years old.
The Provincial Health Office's sanitary services unit has started disinfecting the communities.
Among the symptoms of HFMD are fever and rashes.
Health officials advised those with symptoms to stay at home to avoid possibly infecting others.
They also reminded the public to observe personal hygiene, take baths and always wash hands.
(Jason B. Neola, CEPPIO. File Photo by Vic Villaflor, CEPPIO.)