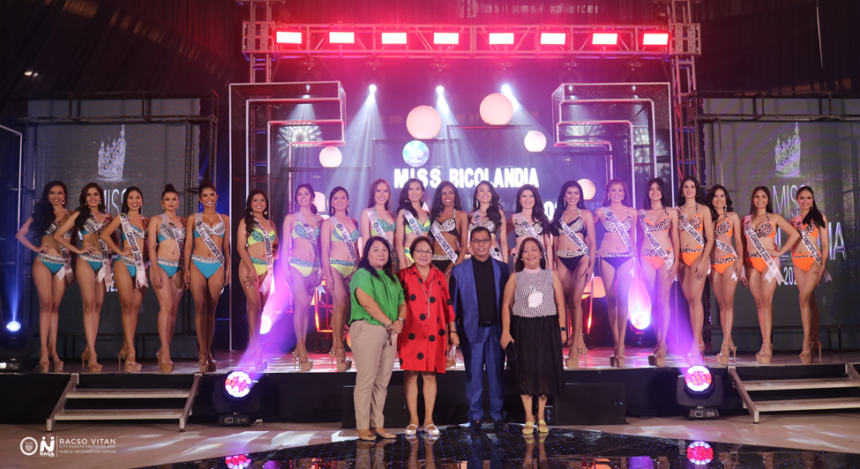 THEY would have been 42 but only 35 made the cut. And before a panel of judges in a face to face interview that would reveal more of their character and how articulate they are as future ambassadors of goodwill, the 20 official candidates of the Miss Bicolandia 2022 beauty pageant have been finally chosen.
That was throughout the morning until 3:00 p.m. of August 28, Sunday last week at Villa Caceres Hotel. A few hours later, at 6:00 o'clock, the 20 successful candidates were motored to the already crowded activity center of Robinsons Place Naga for the formal announcement and public presentation hosted by City Mayor Nelson Legacion and Vice Mayor Nene de Asis, along with some city officials and the selection judges themselves led by Bicol Regional Tourism Director Herbie Aguas.
In no particular order, the names of the 20 official candidates are as follows:
Kazzandra Seton of Siruma, Camarines Sur
Elaine D. Decano of Labo, Camarines Norte
Alexa N. Garcia of Polangui, Albay
Margarette Briton of Tabaco City, Albay
Iris I. Oresca of Naga City
Reynaleen D. Praferosa of Naga City
Princess Joy Plotado of Baao, Camarines Sur
Dara Sofia Cartujano of Naga City
Rhemma Adakkoden of Naga City
Jeanne Isabelle Bilasano of Malilipot, Albay
Rainsfer Khrizette Ranara of Naga City
Mary Joy A. Darilay of Naga City
Mary Denise Alexandre G. Nueva of Bula, Camarines Sur
Sandip Kater of Iriga City
Jeanette L. Reyes of Pasacao, Camarinses Sur
Trixia Jorgia P. Aganan of Sorsogon
Claudine Timola of Baras, Catanduanes
Rosalexi B. Isidoro of Virac, Catanduanes
Jannel Mendee Calleja of Sorsogon
Janine T. Ahmad of Mercedes, Camarinses Norte
Naga City Councilor Sonny Rañola, chairman of this year's executive committee of Miss Bicolandia 2022, said that so far this is the biggest haul of aspirants to the most coveted crown in the region's biggest and most prestigious beauty pageant. The last pageant was held in September 2019 and a hiatus of two years followed due to the Covid-19 pandemic where all major human enterprises, including fiesta celebrations among others, seemed to have come to a halt.
ExeCom Vice Chair and Councilor Joe Perez promises that this year's staging of the comebacking Miss Bicolandia Beauty Pageant will be as colorful and perhaps even more exciting as ever because of a bevy of celebrities, VIPs, and national beauty icons that were invited – either as judges, guests and entertainers – to grace the grand coronation night on September 7 at the 10,000-seater Jesse M. Robredo Coliseum.