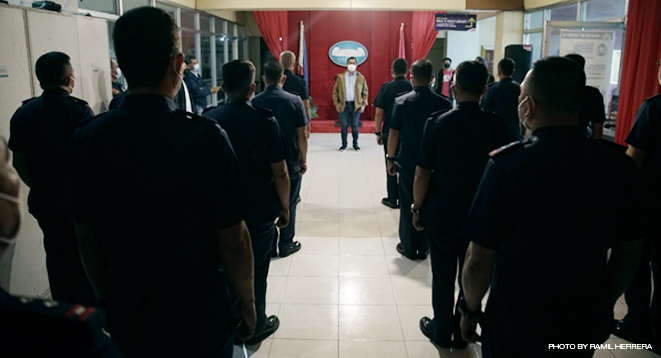 Executing the PNP's traditional call with the highest government official in its place of assignment every January of the year, the police officers and station heads of the Naga City Police Office (NCPO) appeared before Mayor Nelson Legacion on Thursday, Jan. 14, to reaffirm their trust and support to the LGU.
The restatement of commitment to the local chief executive was staged several weeks after the city police was adjudged second place in the recently concluded regional performance evaluation conducted by the Police Regional Office 5 (PRO5).
Legacion commended the police officers in the meeting, saying that he is confident with Police Col. Marlon Catan as NCPO director and that he believes his leadership can further improve the city police's competencies in the undertaking of various police works.
The mayor, who was elated by the recognition given to the NCPO by the police regional office in Bicol, said that he trust that the NCPO will make it to the top in the coming performance assessments.
Earlier, the NCPO with Police Lt. Col. Errol Garchitorena as deputy director, has gratefully acknowledged the LGU for being very supportive to the city police, a gesture that allowed the force to enhance its various law enforcement operations in Naga called "An Maogmang Lugar."