Kenneth Olbita Dela Torre of the Naga College Foundation (NCF) College of Criminal Justice Education scored 89.0% to rank first in the recent Licensure Examination for Criminologists. He is joined by Mark Perit Villanueva, also from NCF, who landed tenth with a rating of 87.45 in the April 2023 edition of the board exams.
De la Torre and Villanueva add to the long list of top performers in licensure exams who are products of prestigious educational institutions in Naga City.
The Professional Regulation Commission (PRC) said  4,139 out of 13,000 passed the Licensure Examination for Criminologists given by the Board of Criminology last April 2023 in 30 testing centers all over the Philippines.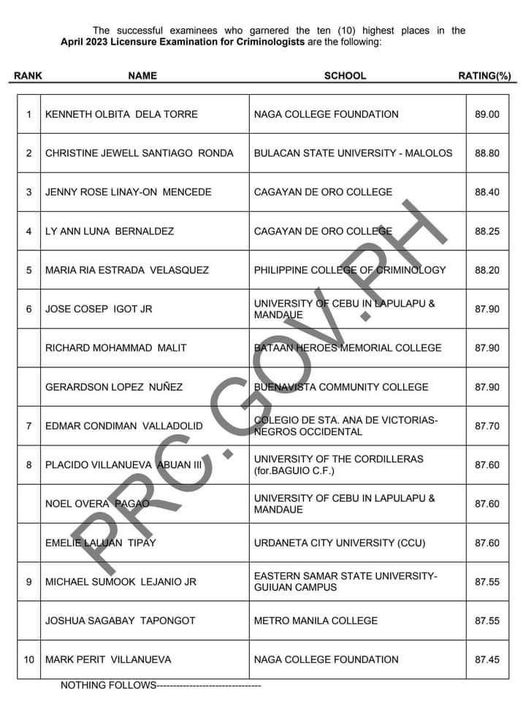 References:
Mayor Legacion: Tatak NCF, Tatak Naga (FB post)
#NCFF1rsts | 𝗜𝗻𝗱𝗲𝗲𝗱, 𝗡𝗮𝗴𝗮 𝗖𝗼𝗹𝗹𝗲𝗴𝗲 𝗙𝗼𝘂𝗻𝗱𝗮𝘁𝗶𝗼𝗻, 𝗜𝗻𝗰. (𝗡𝗖𝗙) – 𝗖𝗼𝗹𝗹𝗲𝗴𝗲 𝗼𝗳 𝗖𝗿𝗶𝗺𝗶𝗻𝗮𝗹 𝗝𝘂𝘀𝘁𝗶𝗰𝗲 𝗘𝗱𝘂𝗰𝗮𝘁𝗶𝗼𝗻 (𝗖𝗖𝗝𝗘) 𝗶𝘀 𝘁𝗵𝗲 𝗖𝗲𝗻𝘁𝗲𝗿 𝗼𝗳 𝗗𝗲𝘃𝗲𝗹𝗼𝗽𝗺𝗲𝗻𝘁 𝗶𝗻 𝗖𝗿𝗶𝗺𝗶𝗻𝗼𝗹𝗼𝗴𝘆!
RESULTS: April 2023 Criminologists Licensure Examination (rappler.com)
Download Licensure Examniations for Criminologists Results (CRIM0423ft.pdf – Google Drive)