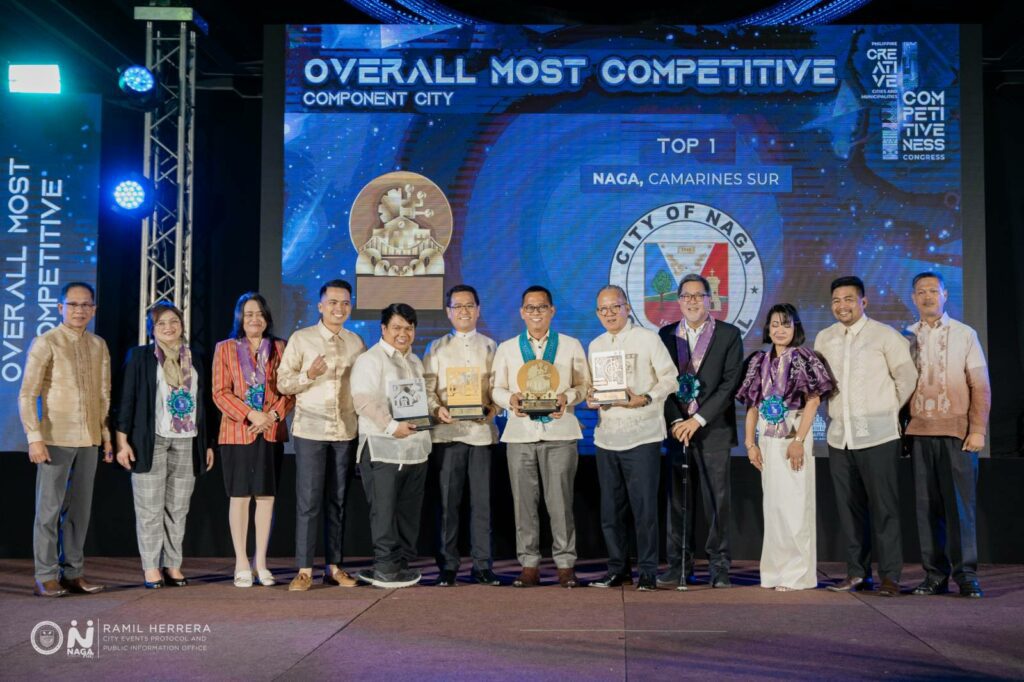 NAGA City has once again clinched the coveted title of "Overall Most Competitive Component City" for the third consecutive year from 2021 to 2023. The city's exceptional performance was recognized at the Philippine Creative Cities and Municipalities Competitiveness Congress held on September 28, 2023.
Under the dynamic leadership of Mayor Nelson Legacion and Vice Mayor Cecilia de Asis, Naga City stood out as a beacon of competitiveness. The prestigious award was presented to Naga City by the National Competitiveness Council and the Department of Trade and Industry (DTI).
Naga's 2023 triumph was highlighted by its consistent excellence in key categories. The city retained its first-place ranking in the fields of Innovation and Infrastructure, showcasing its commitment to progressive development.
In the Resiliency category, Naga City secured the second-place position, building upon its achievements from the previous year. Moreover, in the Economic Dynamism category, the city ascended to the fourth place, demonstrating remarkable growth compared to its sixth-place position in 2022. Notably, in Government Efficiency, Naga City surged from 14th place in 2022 to a commendable fifth place in 2023.
Mayor Nelson Legacion, in a spirited address, emphasized the city government's unwavering dedication to providing Nagueños with top-notch public services. He declared, "This achievement significantly demonstrates how serious the city government is in its effort to provide the Nagueños with quality public service. It is also proof that the citizens of Naga are in the hands of public servants that nurture, empower, and promote good governance so that they can achieve a bright future."
Mayor Legacion attributed these remarkable accomplishments to the dedicated efforts of city officials, diligent co-workers in the city government, and the invaluable support from various development allies in both the public and private sectors.
The city's consistent recognition as the Overall Most Competitive Component City serves as a testament to its unwavering commitment to progress, innovation, and efficient governance. It stands as a shining example for cities across the Philippines and underscores the remarkable potential of collaborative leadership and public-private partnerships in driving success and prosperity.
The prestigious accolade, bestowed by the National Competitiveness Council (NCC), underscores the city's remarkable commitment to fostering an environment conducive to growth, innovation, and sustainable development. With its impressive track record, it has established itself as a shining example of what can be achieved through effective governance and community collaboration.
Mayor Nelson Legacion, who received the award on behalf of Naga City, expressed his gratitude and pride in the city's continuous achievements. He said that "this recognition is a testament to the tireless efforts of our public servants, dedicated citizens, and the unwavering spirit of our community. We will continue to strive for excellence in all aspects, making it an even more vibrant and competitive place to live and do business."
The NCC's annual competitiveness rankings assess various factors, including economic dynamism, innovation, government efficiency, infrastructure, and resiliency. Naga City's consistent ranking at the top signifies its robust economic climate, efficient government services, and investments in infrastructure and sustainability.
Naga City's success serves as an inspiration for other LGUs across the country, demonstrating that with strong leadership, citizen engagement, and a clear vision for progress, any community can achieve remarkable results.
As Naga City continues to build upon its legacy of competitiveness, it reaffirms its commitment to driving economic growth, improving the quality of life for its residents, and serving as a model for cities nationwide.