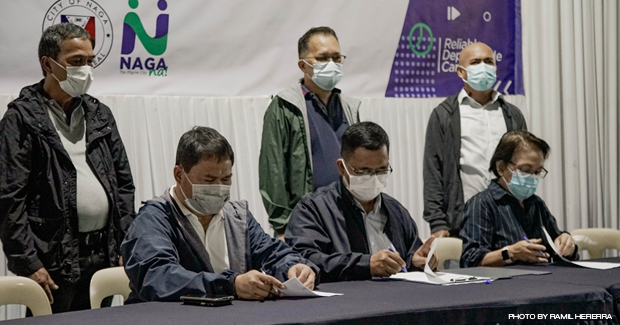 NAGA CITY — The local government unit here is on the process of establishing a strong internal audit services after an ordinance that seeks to reinforce the operations of the present Internal Audit Unit was enacted by the Sangguniang Panlungsod and approved on Monday, Feb. 22, this year, by Mayor Nelson S. Legacion.
Authored by City Councilor Joselito S.A. del Rosario, Ordinance 2021-016 creates the Naga City Internal Audit Services Office (NCIASO) that shall assist the city government in the effective discharge of its responsibilities without encroaching on or be adversarial with the Commission on Audit.
As provided for by RA 3456, which is the Internal Auditing Act of 1962, as amended by RA 4177, the Office was created, which shall perform the following functions:
Advise the city mayor or the Sangguniang Panlungsod on all matters relating to management control and operations audit of the executive and other offices;
Conduct management and operations audit of city government functions, programs, projects, activities, and outputs and determine the degree of compliance with their mandate, policies, government regulations, established objectives, systems and procedures, and contractual obligations;
Review and appraise systems and procedures, organizational structures, asset management practices, financial and management records, reports, and performance standards of the city government;
Analyze and evaluate management deficiencies and assist top management by recommending realistic courses of action; and
Perform such other related duties and responsibilities as may be assigned or delegated by the LGU or as may be required by law.
The Office's Operations Audit Division shall evaluate the extent of compliance and ascertain the effective, efficient, ethical, and economical execution of operations by employing internal auditing methods while its Management Audit Division shall evaluate the achievement of the control objectives, which include the safeguarding of assets, checking the accuracy and reliability of accounting data, adherence to managerial policies, compliance with laws, rules, and regulations by utilizing internal auditing methods.
The city government on September 1, 2015 issued Administrative Order 2015-004 creating the Internal Audit Unit. With the adoption of the ordinance, IAU services will be strengthened further with the full backing and support by the LGU's executive and legislative branches coupled with proper and adequate manpower.
Del Rosario said that he endorsed the enactment of the ordinance for the city government to further address the challenges it has been facing with regards to its compliance, operations, and management implementation concerning governance procedures.
"Since 1988, the city government of Naga achieved the reputation of a model government unit and has triumphantly pioneered innovations in governance as proven by our various awards conferred by different reputable international, national, and regional entities. The quest for excellence must continue, hence, this ordinance" he said.
A strong internal audit is a potent tool in the achievement of efficient and effective administration that also ensures transparency and accountability in public management further boosting the integrity of governance processes, the councilor said.