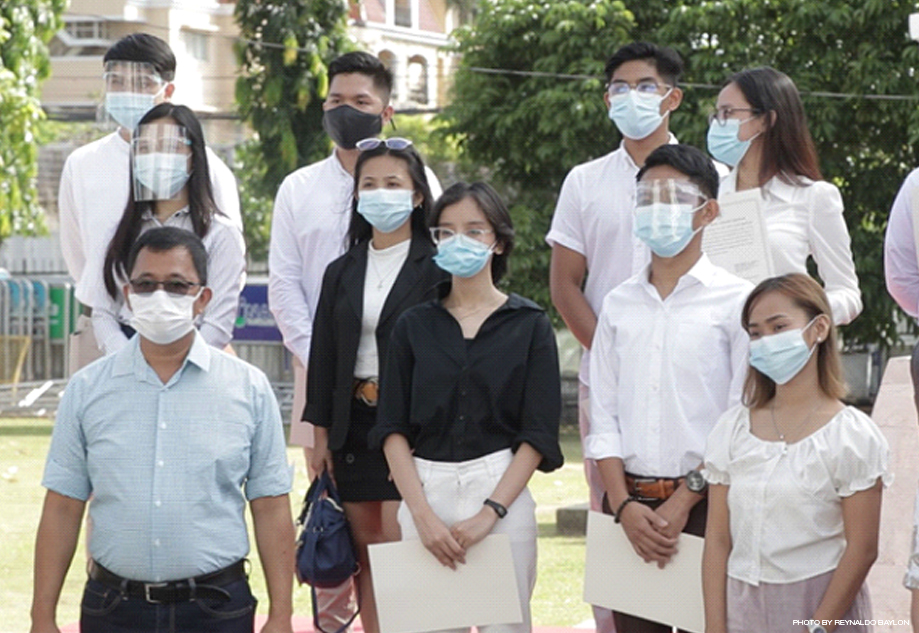 NAGA CITY — This year's 48 students who qualified to the Youth Governance Internship Program (Naga City Youth Officials Program) shall actively work as partner of the youth in the achievement of solutions to problems besetting the sector in this time of pandemic.
City Youth Mayor Berlineth Nymia Montes said that aside from doing their regular tasks as city youth officials, they will also work for the youth sector by coming up with projects and activities that "will help them avoid the illegal drugs."
Montes said a citywide campaign that will help close or eradicate the digital divide among the youths is one of the activities they are going to do.
Digital divide refers to the gap between those able to benefit from the digital age and those who are not. The concern is that people without access to the Internet and other information and communication technologies are on the disadvantaged situation, as they are unable or less able to obtain digital information, shop online, participate democratically, or learn skills and offer skills.
Outgoing 2019 City Youth Mayor John Carl Bagasbas said his batch has completed its term by way of conducting activities that promoted gender equality. "We conducted projects that created platforms for every sector like the LGBTQ+ sector when we helped them organized and conducted the first-ever Pride March in the city and the seminars that espoused social inclusion of those in the PWD sector," he said.
The Naga City Youth Officials Program was institutionalized by City Ordinance 2007-008 as amended by Ordinance 2009-17 that also declared the period from April 15 to May 31 each year as City Youth Month.
During this period, youth officials are given the opportunity to handle the operations of the city government as counterparts of the elective and designated heads of offices and departments where they were assigned.
Last year, the LGU promptly deferred the implementation of the Naga City Youth Officials Program due to the undertaking of certain matters that need to be prioritized as being compelled by the situation brought about by the coronavirus disease 2019.
Based on the ordinance, the CYOs shall serve for a term of one and a half months beginning April 15 to May 31. Montes and the 47 other CYOs who shall run the youth government were selected through written and oral examinations from a pool of qualified youth applicants/nominees.
The City Youth Officials for year 2021:
Montes, Berlineth Nymia T., City Youth Mayor; Cambe, Cristobal S., City Youth Vice Mayor;
City Youth Councilors:
Faurillo, Dane Francian Dimaiwat; Escoto, Averly Terryl; Ando, Earl Christian M.; Oliva, Mariano Niño T.; Chica, Marinel Mae M.; Berlon, Nica Deannise B.; Broso, Sofia D.; Servidad, Kaye Pauline B.; Baylon, Ezra M.; Averilla, Marie Angella B.; Garcia, Joaquin Marxx B.; Alferez, Bryan Kenneth A.;
City Youth Department Heads:
Loresto, James L., City Youth Administrator; Tan, Julliane Gayle A.; City Youth Secretary to the Mayor; Aguayo, Johanna Donna A., City Youth Secretary to the SP; Moratalla, Honey Len O., City Youth Veterinarian; Sacdalan, Nathaniel F., City Youth Treasurer; Araneta, Marie Teresa Angela, City Youth Population Officer; Llaguno, Andres Gabriel, City Youth Public Safety Officer; Palmiano, Mary Joy D., City Youth Persons with Disability Affairs Officer; Sena, Rodina Michaela C., City Youth Solid Waste Management Officer; Ustaris, Angelica Mae A., City Youth Social Welfare Development Officer; Amaro, Edelyn P., City Youth Senior Citizens Affair officer; Martinez, Brix B., City Youth Science Centrum Administrator; Dujapa, Ma. Fernanda A, City Youth Metro PESO Department Head;
Velasco, Princess Ishe C., City Youth Market Superintendent; Roxas, Ivy P., City Youth Lingkod Barangay Officer; Baluyot, Kymreigne Fressie C., City Youth Librarian; Sancho, Theresse Mae C., City Youth CEPPIO Officer; Remiter, Mark P, City Youth Legal Officer;
Orendain, Ann Margaret B., City Youth Human Resource Officer; Martinez, Shawn Jannsen Talaguit, City Youth Resettlement Development Officer; Villafuerte, Liezle Ann San Luis, City Youth Planning and Development Officer; Singson, Gabrielle Penelope A., City Youth Chief of Hospital; Candia, Arsenio Jose O., City Youth Health Officer; Ebonite, Mariane B., City Youth Abattoir Head;
Pacis, Vietta Karie M., City Youth General Services Officer; Siazon, Rico Villares Pauline, City Youth Education, Scholarship and Sports Officer; Azaña, Ma. Isabel B., City Youth Engineering Officer; Centenera, Julian Mari VIII M., City Youth Civil Registrar; Berces, Angelyn A., City Youth Environment Officer; Balmaceda, Marvi Ann A., City Youth Budget Officer; De Leon, Daryl Son S., City Youth Assessor Officer; Casinao, Jedidiah Mae L., City Youth Agriculturist; Vito Cruz, Jullie Angela E., City Youth Accountant; and Sabaybay, Shaira Mae M., City Youth EDP/ITO head.