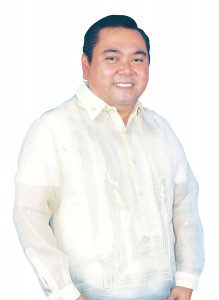 Mayor John G. Bongat is the eighth Local Chief Executive of the City of Naga, Camarines Sur in the Bicol Region, Philippines. He served as City Councilor for 3 consecutive terms from 2001 to 2010, and was elected Mayor in the same year and re-elected in 2013 and 2016. Mayor Bongat earned his Bachelor of Laws degree from the UP College of Law after taking up AB Political Science at the Ateneo de Manila University.
Prior to his becoming a Councilor and later on Mayor of Naga, Bongat practised his law profession with two reputable firms in Makati and was later appointed Corporate Secretary and Assistant Vice President of Megaworld Corporation. Believing that those who have less in life should have more in law, Mayor Bongat, as a young lawyer also served as National Director for Legal Aid of the Integrated Bar of the Philippines, providing free legal assistance to fellow Filipinos in need.
In the May 2010 elections, he handily won as Mayor of the Queen City of Bicol on a platform of leadership by example, further cementing his motto that "Leadership is Action, not position."
In the May 2013 elections, almost unopposed, Mayor Bongat was given a fresh mandate by his fellow Nagueños, and in 2016, he clinched his third consecutive and final term as Mayor, again with overwhelming votes. Since 2011, Mayor Bongat's Administration has contributed more than 120 regional, national and international awards for the city across different areas of governance. His tenure ends June 30, 2019.
In 2012, Naga received the 2012 Freedom Project Award given by the Friedrich Naumann Foundation of Germany.
In 2014, the Lee Kuan Yew Institute of Public Policy of the National University of Singapore recognized Naga's ICT-driven project entitled "Using ICT for Civic Engagement towards Responsive Decision-Making" as the "Most Inspiring Innovation in E-Government and Participatory Innovations" in Asia. In same year, Naga was adjudged by the National ICT Confederation of the Philippines (NICP) as the Best City in the country implementing effective e-governance in the 1st e-Gov Awards.
Mayor Bongat received in 2016 the prestigious CEO Excel Award given by the International Association of Business Communicators Philippines for his exemplary leadership in the field of public service.
In 2017, Naga was conferred for the first time the Apolinario Mabini Award by the Philippine Foundation for the Rehabilitation of the Disabled, Inc. for exemplifying exceptional care, through accessible basic services, for its constituents with disabilities.
Because of Mayor Bongat's proactive leadership, Naga was awarded in the same year by the Manila Times as one of the model cities and most livable urban centers in the country, and was hailed as the best component city in terms of livelihood and employment promotion.
In the second half of 2017, three of Naga's programs were shortlisted as among the country's top 20 Galing Pook best practices out of 158 evaluated programs from LGUs nationwide. In 2018, the city's Community Based Rehabilitation Service Program and Barangay Literacy Worker (BLW) Program again made it to the elite cut from a total of 156 good governance practices of LGUs evaluated. This innovative BLW program romped off as a winning Galing Pook best practice.
In 2018, Mayor Bongat was chosen as one of the Ten Outstanding Movers of the Philippines (TOMP) by the Save Me Movement. In the 2018 Digital Cities Awards sponsored by the Department of Information and Communications Technology (DICT), the National ICT Confederation of the Philippines (NICP) and the DILG, Naga thru its Alisto Serbisyo App (or ASApp) project was adjudged as Champion City for being Best in e-Gov Inter – Operability (G2G Category).
Like his predecessor, the late DILG Secretary Jesse M. Robredo, whom he succeeded in 2010, Mayor Bongat continues to reap honor for the city, foremost of which, among many others, is Naga's being adjudged for 2 consecutive years (2015 and 2016) as the country's Overall No. 1 Most Competitive Component City in the Philippines, and No. 2 Overall Most Competitive in 2017 and 2018, a feat unparalleled and unprecedented in the competitiveness rankings history. In fact, in the area of economic dynamism, Naga has occupied the No. 1 spot unthreatened for four years in a row (2015 – 2018).
Today, Naga has indeed seen tremendous growth in university enrolment, in the number of economic enterprises, in tourism and in Business Process Outsourcing and Management Services as thousands of the city and the region's graduates have, in the past 4 to 5 years, found their rightful place in these thriving industries.
Mayor John Bongat, with his game-changing leadership, braced by a solid foundation of good governance, has recently been named by the United Cities and Local Governments – Asia Pacific (UCLG – ASPAC) as SDGs Champion Mayor of Southeast Asia, along with 2 other Mayors from Penang Island City, Malaysia and Nadee City, Thailand, bringing pride not only to Naga but to the country as well.