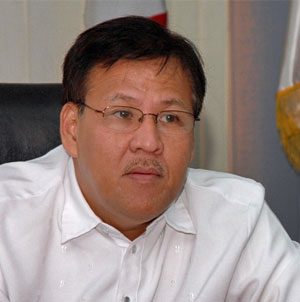 Jesse M. Robredo, who served as mayor of Naga City, Philippines for 19 years, is an internationally recognized expert in local governance.
He is an Edward Mason Fellow and a graduate of Masters in Public Administration at the John F. Kennedy School of Government, Harvard University, Cambridge, Massachusetts. Previously, he completed his Masters in Business Administration at the University of the Philippines, finishing at the top of his class as university and college scholar. He is an alumnus of the De La Salle University, having obtained undergraduate degrees in Industrial Management Engineering and Mechanical Engineering.
Mayor Robredo joined San Miguel Corporation's Magnolia division after his graduation from De La Salle in 1980. Returning home to Naga City in 1986, he was named Program Director of the Bicol River BasinDevelopment Program, an agency tasked to undertake integrated area development planning in the region's three provinces.
In 1988, he won his mayoralty bid, making him the youngest Philippine city mayor at the age 29. He would later serve the city for an unprecedented six 3-year terms as local chief executive.
Cited in 1999 by Asiaweek Magazine for transforming Naga City from a lethargic Philippine city into one of Asia's Most Improved, Robredo energized the bureaucracy, dramatically improved stakeholdership and people participation in governance, in the process restoring Naga to its preeminent position as premier city of the Bicol Region. Today, Naga is considered a model local government in the country and a laboratory of local government innovation.
In recognition of his skills and competence as a leader and development manager, his peers elected Robredo president of the League of Cities of the Philippines, the national association of city mayors, in 1995. He was also elected chairman of the Regional Development Council, the regional planning and coordinative body of Bicol's six provinces and seven cities, from 1992-98.  Since 1995, he also chairs the Metro Naga Development Council.
In recognition of his work, Robredo received 14 major individual awards, including the 2000 Ramon Magsaysay Award for Government Service, the 1996 Outstanding Young Persons of the World (TOYP) Award, the Outstanding Young Men of the Philippines (TOYM), 1998 Konrad Adenauer Medal of Excellence as Most Outstanding City Mayor of the Philippines and the first ever "Dangal ng Bayan " Award of the Civil Service Commission. In March 2008, he was conferred an honorary Doctor of Humanities degree by the Far Eastern University in Manila.
A trustee of Synergeia Foundation, a national advocacy group for education governance reforms, Robredo is a member of the Liberal Party of the Philippines and a prime mover behind the Kaya Natin!, a national movement that seeks to bring genuine change and ethical leadership in the country.