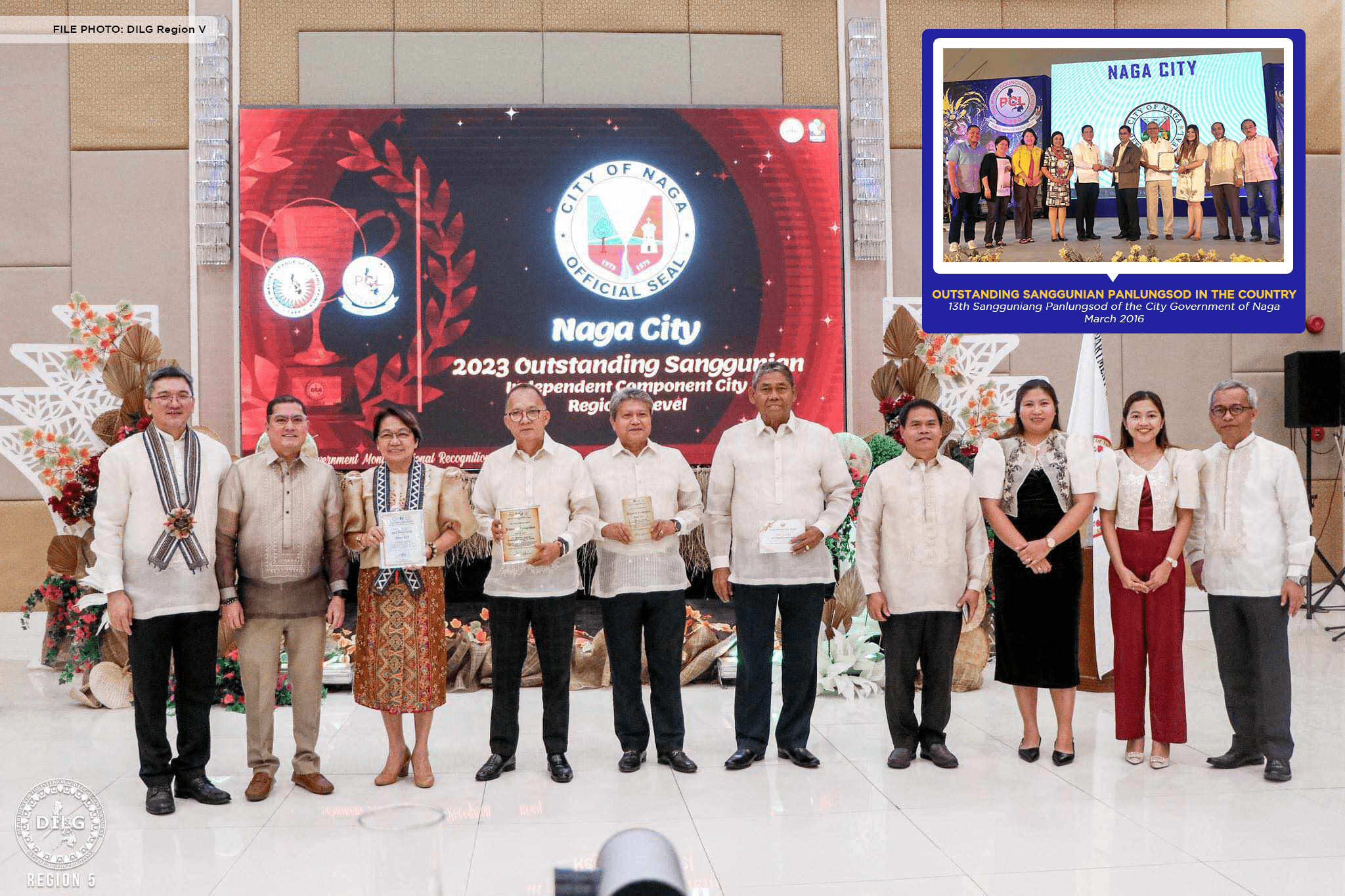 The Department of Interior and Local Government (DILG), in celebration of Local Government Month, handed out awards and commendations at the Regional Recognition Ceremony 2023 in Legazpi City, Albay on October 23, 2023. Vice Mayor Cecilia B. Veluz-De Asis, together with City Councilors Jessie Albeus, Joselito Del Rosario, Jose Perez, Salvador Del Castillo, and Sanggunian Secretary Gil De La Torre, received the Local Legislative Award 2023 which was bestowed on Naga City as the Outstanding Sanggunian in the Independent Component City Category. The plaque reads:
"for the enactment of ordinances and resolutions that significantly contributed to the attainment of desirable socio-economic and environmental outcomes including the innovations and distinctive practices in local legislation worthy of replication by other sanggunians in the performance of their functions."
The focus of assessment were viewed in light of the six award criteria, namely: Responsiveness of Legislative Agenda; Availability of Legislative Documents; Effectiveness of Performance of Sanggunian; Efficiency of Performance of Sanggunian; Legislative Citations and Awards; and Capacity of and Development for Legislators and Staff.
The Assessment Methodology involved a three-pronged process to ensure a detailed evaluation of the performance of the Sangguniang Panlungsod of Naga City. Firstly, the employment of Live Virtual (Hybrid) and Cloud-based evaluation wherein the Means of Verifications (MOV) submitted by the Sanggunian through Google Drive were carefully reviewed by the Regional Award Committee (RAC) members. An online interview with the representatives of the Sanggunian was subsequently conducted to validate key findings and clarify questions from the RAC.
Secondly, the RAC members individually rated the Sanggunian and descriptive statistics of averaging was applied. Lastly, the RAC considered the findings and noteworthy accomplishments of the Sanggunian based on the six award criteria. At this stage, the RAC made the final determination that the 13th Sangguniang Panlungsod of Naga City has more than satisfactorily surpassed the criteria and qualified for endorsement to the National Awards Committee (NAC.)
The ordinances and resolutions that were reviewed by the Regional Awards Committee were enacted within the years 2019 – 2022, which fell under the term of the 13th Sanggunian Panlungsod. Newly-elected Vice Mayor Cecilia B. Veluz-De Asis served as the Presiding Officer of the 13th Sangguniang Panlungsod. Although this was her first term as Vice Mayor, she brought to the 13th SP a wealth of wisdom and experience cultivated in her more than three decades tour as a veteran public servant and legislator; 18 years of which as councilor in the 6th, 7th, 8th, 10th, 11th, and 12th Sanggunian.