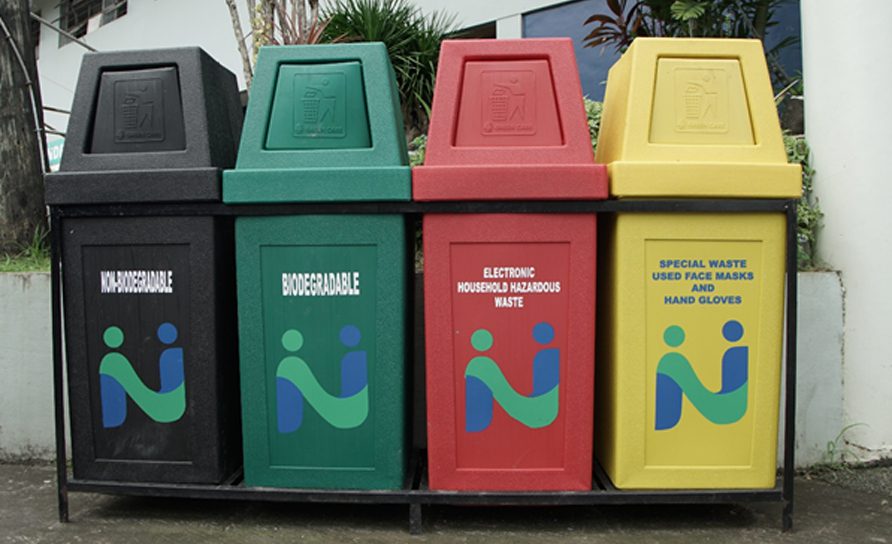 The City Government of Naga (CGN) is putting up additional garbage bins in Central Business District (CBD) I and II to give way for the proper disposal of infectious medical waste materials, an approach that can be of help to prevent the spread of Coronavirus disease 2019 (Covid-19).
Engr. Joel Martin, chief of the Solid Waste Management Office (SWMO), said the placement of yellow garbage containers will also be undertaken in the city's 27 barangays, especially in residential and business districts including government and private establishments or offices, and vaccination sites.
"We are zeroing in on areas where used face masks, face shields, gloves, and other personal protective equipment (PPE) and infectious waste materials are being thrown away carelessly by people unmindful of the consequences of their actions," Martin said.
At present, the SWMO has initially put up 41 sets of yellow garbage bins along the main streets in the city's business districts. More than a hundred are about to be deployed in the barangays.
Martin said garbage in yellow bins are being collected by a separate team of PPE-wearing SWMO personnel who uses a garbage truck that is not included among the fleet that transport regular solid waste materials to the sanitary landfill (SLF) in Brgy. San Isidro.
Upon the orders of the Department of Environment and Natural Resources-Environmental Management Bureau and the Dept. of Health, the hazardous residuals are being discarded by SWMO into septic vaults in Brgy. Balatas and the one near the SLF.
City Councilor Salvador del Castillo, chairman of the committee on environment and energy in Sangguniang Panlungsod, said that a city ordinance will be enacted to ensure that rules on proper disposal of health care waste are religiously followed.
He said his committee is now in consultation with the public to inform them about the planned coming up with an ordinance and to make them fully aware of the advocacy that they have to support.
"We should not underestimate the importance of proper disposal of infectious residuals even though cases of infection in the city seem to have continuously going down," the councilor said.
As of press time of Wednesday (morning), Nov. 9, the Naga City Contact Tracing and Monitoring Center recorded 6 new Covid-19 cases.
In a solid waste management board meeting, the councilor underscored the importance of the yellow bins which are now being installed while an appropriate ordinance that bears a penalty clause has yet to be enacted.
Del Castillo, however, emphasized that what is being needed to see good results in the advocacy is the people's participation, commitment, and common sense and not so much on the strict implementation of ordinance. "And that is the essence of waste segregation at source," he said.