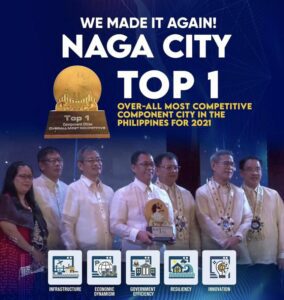 It's a proud moment for Nagueños! Naga City has again captured the top rank as the Overall Most Competitive City in the country during the 10th Cities and Municipalities Competitiveness Summit 2022.
The City also ranked 1st in Innovation Category, 2nd in the Infrastructure and Resiliency Categories, and 6th in Economic Dynamism.
The awards were handed out during the ceremonies held at the Philippine International Convention Center (PICC) last Thursday, Oct. 20.
The annual summit gathered various LGUs from across the country to honor their accomplishments in "promoting the culture of competitiveness" in their respective cities and municipalities. To determine the winners, the Competitiveness Bureau of the Department of Trade and Industry (DTI) uses the "Cities and Municipalities Competitiveness Index (CMCI)," which is the organization's annual ranking tool.
According to the Cities and Municipalities Competitiveness Index (CMCI) website, cities and municipalities are ranked on their competitiveness based on an overall competitiveness score. The overall competitiveness score is the sum of scores on three main pillars which pool data from several sub-indicators. The three main pillars are economic dynamism, government efficiency, and infrastructure. Scores are determined by the values of the actual data, as well as the completeness of the submitted data. The higher the score of a city or municipality, the more competitive it is.
It was developed by the National Competitiveness Council through the Regional Competitiveness Committees (RCCs) with the assistance of USAID.
Kudos to Naga City!