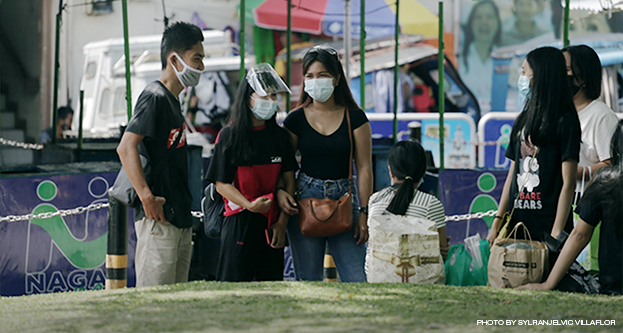 NAGA CITY — Piglansar kan LGU Naga an Civil Society Organization Desk na maserbing facilidad tanganing magin marikas an proseso sa pag-accredit o formal na pagbisto sa mga NGOs asin people's organization sa laog kan ciudad.
An kamawotan kan LGU Naga na magin kapartner an mga civil society organizations sa pagpadalagan kan gobyerno lokal pigtutubudan na magiging sarong dalan tanganing mapaorog pang lalo an advocacy para sa marhay na paggobernar sa paagi nin makusog na people's participation.
An aktibidad piggibo kasoodma, aldaw nin Lunes, Marso 30, pagkatapos kan flag raising ceremony, sa pangengenot ni Alkalde Nelson Legacion, Bise-Alkalde Cecilia V. De Asis asin mga miembros kan Sangguniang Panlungsod.
An proseso para sa accreditation gamit an CSO desk gigibohon online sa paagi kan link na: nagacitycsodesk.wordpress.com
Segun ki City Councilor Ghiel Rosales, chairman kan Committee on People Empowerment sa Sangguniang Panlungsod, pig aapod na one-stop-shop an proseso huli ta an transaksyon sa CSO desk matao nin access sa mga accreditation applicants nin kumpletong giya sagkod sa magin accredited sinda.
An mga transaksyon na pigtatao kan CSO Desk:
Access available resources and guidelines (e.g. Empowerment Ordinance, CSO Directory, DILG MC);
Download template forms and documents;
Upload required documents for CSOs applying for accreditation;
Register your organization for the Naga City CSO Directory;
Submit inquiries to the CSO Desk Officer. Visit the page through the link below: https://nagacitycsodesk.wordpress.com/ #NagaCityCSODirectory #CSOaccreditation #SPNaga
Sinabi ni Rosales na dae na kaipuhan magbisita pa sa City Hall para sana ma-accredit huli ta kaipuhan lang na mag-visit o isurat asin i-click sa saindang mga computers an arin man sa mga links na ini: https://nagacitycsodesk.wordpress.com/ #NagaCityCSODirectory #CSOaccreditation #SPNaga
An CSO Desk pigmukna tanganing tawan dalan an mahalnas na dalan nin pag accredit sa mga CSOs na iyo an yaon sa marhay na posisyon tanganing magin katabang kan LGU sa mas toltol pang pagpadalagan kan gobyerno arog kan paghaman nin budget, pagpartisipar sa mga proseso, mga committee asin public hearings, sabi pa ni Rosales.