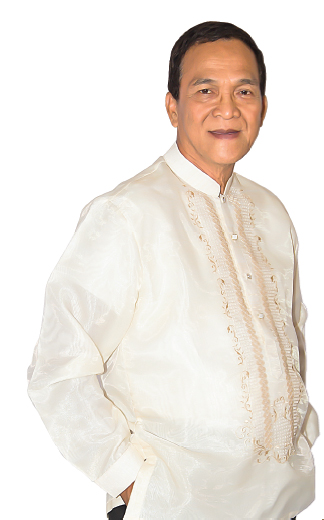 In the Sanggunian, he wears a hard hat. He, being chair of committee on infrastructure, brings with him 43 years of experience in construction and engineering works, a wealth of expertise and know how that he contributes to the Sanggunian, which eventually benefits the entire city of Naga and its constituents.
Similarly, his 25 years in government and public service cannot be left unrecognized, starting as Barangay Kagawad for a term, and as Barangay Captain for four uninterrupted terms, and another full term, had it not been for an election prohibition. His 5th election as Barangay Captain brought him to the Sanggunian being the President of Liga ng mga Barangay. From then on, he has remained in the Sanggunian as a full-fledged elected Councilor.
At present, he is the Charter President of Naga City Oragon 101 Lions Club.
In 1995, he was cited as Outstanding Barangay Official by the Provincial Government of Camarines Sur and Philippine Radio Corporation. Same citation was given in 2003 but, this time, given by Sec. Eleseo Gozon of the Department of Environment and Natural Resources.
Also in the same year, he was given the privilege to attend a teleconference with Pres. Glora Macapagal Arroyo. And in 2004, Barangay Calauag, for which he served as Punong Barangay, was chosen as Regional Model Barangay for Eco Waste Management.
He considers the late DILG Secretary Jesse Robredo as a key influential person to his career in government and public service, having been one of Robredo's companions when he started his journey in local politics in Naga. He is one of the witnesses to Robredo's passion and dedication to public service, and the latter's vision for good governance. Such values and vision are what kept him inspired in doing government and public service.
One time in his life, as a young materials inspector for a construction project somewhere in the hilly grasslands of Camarines Norte, he had a grueling experience of survival that made him earn the trust and confidence of his superior. At that time, when public transportation was scarce, he volunteered to walk for hours and miles long to look for food and water in the dark deep late night. Having found help, he returned to his companions of three at around three in the early morning. That introduced him to what will become a wealthy experience and background in construction work.
He further considers his long stint in public service at the barangay level as a crucial factor to his present legislative agenda and committee works. Driven by the same passion and dedication, he was instrumental in the increase of the Liga ng mga Barangay fund from some PhP 300,000 to a million pesos in 2014. Since then, it has been on the up trend reaching to some 5.7M pesos. Similarly, he batted for the increase of Barangay Support Fund from three hundred thousand pesos to half a million pesos, for the barangay infrastructure projects.
(Note: This article was first printed in Vol 1 of CONSEJO (Official publication of the 13th Sangguniang Panlungsod ng Naga) and posted in an earlier edition of this website.)