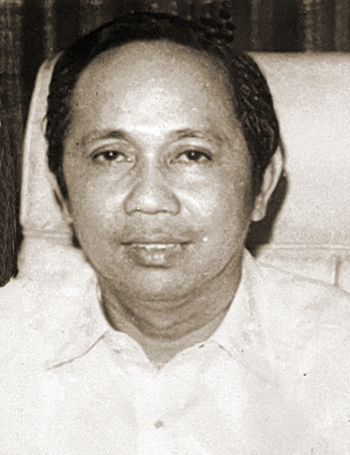 He was the former City Mayor of Naga under whose watch the Naga City Public Market (now Naga City People's Mall) was built to become the biggest single-roofed pubic market in Southeast Asia.
Ramon, Jr. was born in March 11, 1920 in Naga City to Ramon B. Felipe and Rosalia Felin Hidalgo. He completed his primary and intermediate education in 5 years under the Naga public school system and graduated class valedictorian in 1932. He enrolled at the Camarines Sur Provincial High School in his freshman year; but transferred to the Ateneo de Manila University where he got his high school diploma with first honors.
In college at the Ateneo de Manila, Ramon was a full scholar, the President of the Ateneo Student Council, Associate Editor of the Guidon, and an organist of the Ateneo Choir. He received his AB in 1940, graduating summa cum laude and was granted a full scholarship to the College of Law. When war broke out on December 8, 1941, Ramon reported for duty with the USAFFE as an ROTC sergeant, but he never saw active duty.
In the summer of 1941, Ramon met his future wife, Aida de Belen Abella, a fellow Bicolana. They were married at the Archbishops' Palace in Naga. Their union bore eight children: Cecile, Annabel, Amelia, Marlene, Emeterio, Ramon, Antero and Jesus.
In 1945, Ramon placed third in the Philippine Bar Examinations, even before formally graduating from law school. Active in socio-civic organizations, he served as President of the Junior Chamber International (Naga) from 1957 to 1958. Running as an independent LP candidate, Ramon became the mayor of Naga City in 1963 and served until 1965.
Before he could finish his term, he was drafted by his party to run for Congressman of the first district of Camarines Sur (the province then was divided into only two districts, with Naga City belonging to the first district). He won against the incumbent, Rep. Juan F. Triviño. While in Congress, he was chosen one of Ten Outstanding Congressmen every year of his first and second (5th Congress, 1965-1969; 6th Congress, 1969-1972) terms by media. In 1969, he was elected Minority Floor Leader.
When martial law was declared in 1972. Ramon returned to his private law practice. In March 1975, he joined the Araneta Group of Companies as its vice president for Legal Affairs. President Ferdinand Marcos, under pressure to assign an opposition member to the Commission on Elections, appointed Ramon in time to oversee the 1984 Batasang Pambansa elections. He continued to assume the same post under President Cory Aquino, until he retired on February 3, 1988.
Ramon H. Felipe, Jr. passed away on June 15, 2017 and was buried at the Sto. Nino Memorial Park.
Bicol Mail