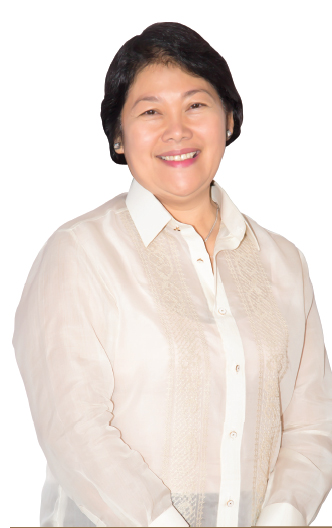 If going by her moniker, she strides by the MILES. At age 56, she has been and remains a public servant for 20 years, seventeen of which, as a City Councilor.
Her first entry to government service was as Executive Assistant to the Presidential Commission for the Urban Poor. Then she served as Director of Housing and Urban Development Coordinating Council, Project Administrator of National Government Center Housing Project before joining Sentro ng Alternatibong Lingap Panlegal (SALIGAN) as Branch Coordinator. All these have paved the way for her work at the Sanggunian, especially in housing and in what was then called as "urban poor" and now as informal settlers.
Her entry to politics was as City Councilor. But that is not to say without a preparation in terms of a degree or in academics where she was awarded as Outstanding College Student of Naga City (given by the Naga City Jaycees), graduated cum laude, and passed the bar. She repaid her alma mater by serving as a Trustee of Ateneo de Naga University for eleven years. She is also a Council Member of the International Planned Parenthood Federation, and as a lawyer, of the Intergrated Bar of the Philippines. She was also chosen as one of The Outstanding Young Women of Naga City by the Naga City Jaycees (Carinosa).
Two key influential/inspirational individuals in her work in government and public service are Fr. Bill Kreutz and Mayor Jesse Robredo. Fr. Kreutz is one of the founders of the Jesuit Volunteers Philippines (JVP). According to her, Fr. Bill continually inspired her to achieve to become the best person she can be, and to devote her talents for the upliftment of the poor. Mayor Jesse Robredo, for his part, made her realize that working for the poor can be made easier and far reaching if government mandate and resources are used through effective and efficient legislation.
Having graduated from a Jesuit school, she joined the JVP. Another key inspirational/influential event in her life that is still very much part of her work as City Councilor. Her volunteer work at the JVP-assigned area with the poor made her realize that one of the services that is so inaccessible to them is the services of a lawyer. That prompted her to study law and dedicate her life to work for reforms in government. She treasures the 30 long years of working for and the poor, as it makes her more focused in looking for ways and means to empower them towards self-reliance. Another is the work with an NGO (non-government organization), particularly SALIGAN. There she recognized the importance of counting on the strength of people participation in governance in order to make it work. And finally, her being representative to the Philippine Council for Sustainable Development (PCSD) where she actualized her love for the environment, and be continually challenged to do more to protect the environment.
Among her key legislations are: (Covid response) establishment and operationalization of community learning hubs in the barangays of the City, instituting measures to promote public health, safety and protection; (urban housing and settlements) changes in the composition of the City's urban development and housing board, implementation of the City's local shelter plan; and (urban agriculture) strengthening the implementation of urban agriculture program of the City; among others.