Hon. Ghiel "Oying" G. Rosales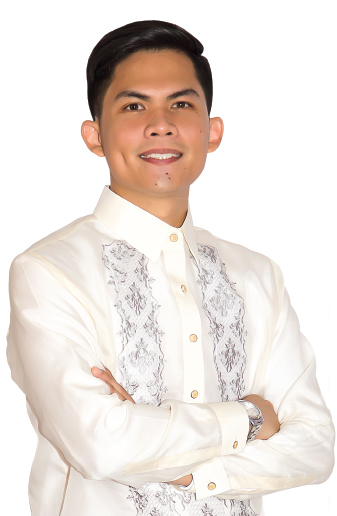 Popularly known in the City by his nickname – "Oying", he started his career in public service at the age of 21 in Barangay San Felipe where he served as Barangay Kagawad for two terms before becoming part of the 13th Sangguniang Panlungsod as its youngest elected member.
Inspired by Naga City's success in good governance, his 6 years as a Barangay Kagawad focused on initiating legislations which strongly advocated for the empowerment of the youth and transparency in his Barangay. Oying firmly believes that his understanding of public service is greatly influenced by the principles then City Mayor Jesse Robredo had tirelessly instilled among Nagueños; being a witness to Jesse's humble character and having a father who also spent years in public service with the City Government.
Prior to his election as City Councilor and during his incumbency in the Barangay, he also simultaneously worked in the private sector while getting himself through law school. His professional experience in sales, education, and human resource management had taught him to value the importance of providing quality livelihood in Naga City and the rural areas as a sustainable solution to equitable urban development in the country.
As the Chairperson of the Committees on Appropriation, People Empowerment, and Livelihood, Manpower, and Cooperative Development, his primary goal is to further strengthen good governance in the City Government. Some of the objectives in his Legislative Agenda are aimed to increase the capacities in the grassroots level, initiate efforts to develop viable participatory mechanisms in the barangays, and promote the organization of cooperatives among identified vulnerable sectors of the community.
To Oying, there is still much for him to prove. Today's youth is in a critical point. He realizes that his noteworthy entry in the City Council speaks of a message that there is no better time for his generation to take collective responsibility to help in nation-building and that the future of the City and this Country will only be greater and more beautiful if the youth will take accountability now.
At 28, Oying is a young father to Stephen Gael and a loving partner to Darlene. He enjoys building his new family in the "Maogmang Lugar". Oying believes that few things are as important as being a responsible father and a loving husband; and that raising a good family is one of the most significant contributions one can make to society.
(Note: This article was first printed in Vol 1 of CONSEJO (Official publication of the 13th Sangguniang Panlungsod ng Naga) and posted in an earlier edition of this website.)