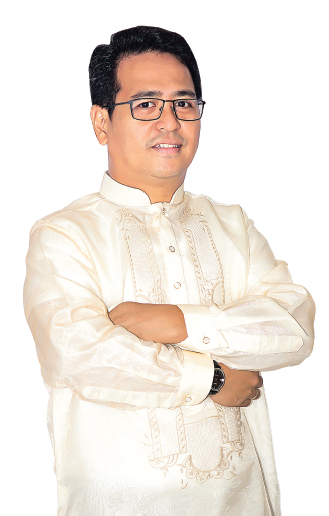 Voters would remember him by his campaign slogan, Team Balde; that included a "pail" for a visual reference (balde is Bikol/Tagalog for pail). It was an effective campaign strategy that made him win and complete the 9-year/3-term limit.
He started as SK Kagawad, then as Barangay Secretary, to Punong Barangay to City Councilor; an unbroken record of government and public service for 27 years.
Outside the Sanggunian, he has served as secretary of the Philippine Councilors League since 2016; as an active member of the National Movement of Young Legislators since 2013; and as president of Triskelion Alumni Organization-Naga City since 2018.
His tireless work and dedicated service have led to earning the following awards for the City, namely; the Most Child Friendly City (2018) given by the Council for the Welfare of Children, the Apolinario Mabini Award (2018) from the Philippine Foundation for the Rehabilitation of the Disabled (PFRD), and the Vulcan Award (2021) given by the Department of Social Welfare and Development (DSWD-Region 5). He also received a Special Service Award in 2018, from the University of Nueva Caceres.
Like many other young Nagueño leaders, he draws inspiration from the late Secretary Jesse Robredo, more particularly on the latter's management and leadership style.
In his first bout in politics as he joined the Sangguniang Kabataan local elections, he was and remains humbled by the experience of winning and ending up as topnotcher SK even without campaigning.
His legislative and committee works are driven by three important: advocacy for children, advocacy for PWDs, and support for the barangays.
Among his key legislations are: (2020-072) the Persons with Disability (PWD) Code of Naga City, (2018-055) Revised Comprehensive Children's Code of Naga City, (2016-001) Barangay Volunteers Retirement Ordinance, (2015-032) Barangay Empowerment Ordinance of Naga City, and (2021-009) the Tabang-Tugang Progam (Covid-19 Response).