Hon. Cecilia Veluz-De Asis
Vice-Mayor (13th Sangguniang Panlungsod)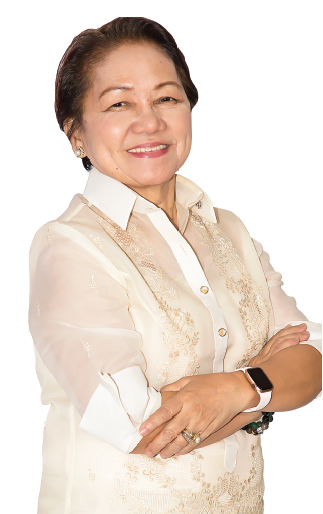 Her moniker may sound ordinary, but she is extraordinary. A force to reckon with. Running unopposed for the second most coveted elective position in the city is as rare as the gem called
Nene.
In the history of city government leadership in Naga, she is the third female to be a vice mayor. Cecilia "Nene" Veluz-De Asis acts as the Presiding Offi cer of the 13th Sangguniang Panlungsod, where she leads at least 10 equally vocal and independent MALE Councilors, plus two other FEMALE, not to be outsmarted and ignored. For the 71 years old women's rights advocate and certifi ed "plantita", she just deals with them with a disarming smile.
With 18 years of experience as City Councilor (serving two full terms of nine years each), she is no amateur to local legislative work. Not to mention her background as legal researcher and Administrative Officer of the Sanggunian before becoming a full-fledged Councilor.
Outside the Sanggunian and the City, she is a member of the Vice Mayors' League of the Philippines. In her younger years as City Hall employee, she was the president of the Naga Chapter of the Buklod ng Kabataang Kawani, a national association of young government employees. A precursor to leadership roles she would take in the succeeding years as public servant.
Such acumen for leadership is not something acquired in her course of work and career as public servant but actually runs in her blood, coming from a family of political leaders. Her mom was once the National President of Rural Improvement Club. A position she also occupied. As regional president of the Rural Improvement Club of the Philippines, Nene was elected as national president, serving both positions from 2016 to 2019. Such also coincided with her (full nine-year) second term as city councilor. The early years of the Girl Scout of the Philippines, where her mom served as Council President for Camarines Sur, were also influential to her molding as woman leader.