Hon. Antonio "Dodit" B. Beltran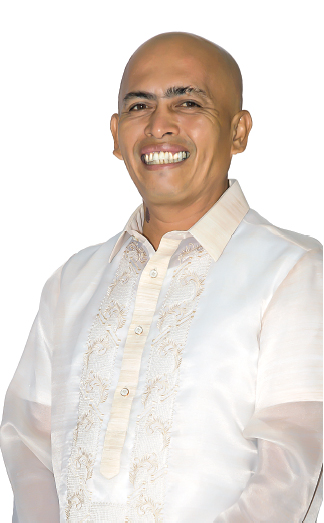 He is every "Kapitan's Kapitan".
Being President of the Association of Barangay Captains (ABC), he plays two roles as a leader. One for his Barangay Bagumbayan Norte, and the other for all the Barangay leaders.
At age 50, he has almost spent half of his lifetime in government and public service (23 years).
Like most elective public official at the local level, his entry was by being a kagawad. But being a Punong Barangay is his longest tenure as public servant, up unto the present.
Outside his barangay and the Sanggunian, he serves as the Regional Treasurer of the Liga ng mga Barangay sa Pilipinas. Since 1980, he acts as Master Initiator for Epsilon Sigma Beta (ESB) and Eagles Society of Bicolandia. He is also the secretary of Lions' Club.
In his younger years as Corps Commander, he has moved his regiment to be the Over-all Champion ROTC Unit at the Penafrancia Festival Regional Military Parade Competition. A pre-cursor to leadership roles he would take in government and public service.
Like many other current and young leaders in the City, he looks up to the late DILG Secretary Jesse Robredo as an inspirational/influential person to his works in government and public service. More specifically, he admires the late secretary's advocacy for effective governance in carrying out reforms.
At one time, losing in an election has not stopped him from running again and winning. An experience that keeps him motivated up until now.
Having served that long in public office, he considers three important aspects or values: great responsibility, accountability, and trust and respect. For him, responsibility is going beyond one's self interest but those of the people he serves. Accountability on the hand, is being responsible for his decisions, actions and work performance, by remaining committed with high moral standards. And finally, trust in and respect to the people he serves so that they do the same to him, with a drive for good team work.
(Note: This article was first printed in Vol 1 of CONSEJO (Official publication of the 13th Sangguniang Panlungsod ng Naga) and posted in an earlier edition of this website.)