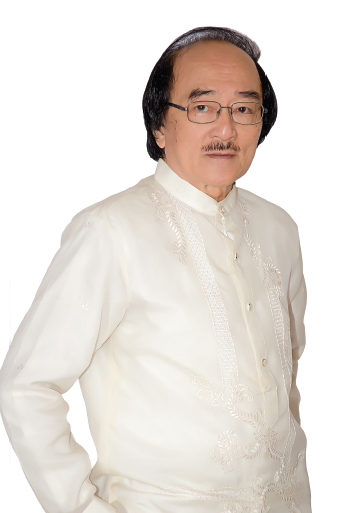 Greg Abonal is the only other lay teacher cited in the 2000 Ramon Magsaysay Award profile of the late Naga City Mayor and Philippine Secretary of the Interior and Local Government Jesse M. Robredo. The profile written by Lorna Kalaw-Tirol reads:" . . . Robredo remembers his English teacher Greg Abonal for having taught him not only English but, more important, the art of living. How clearly Roberdo recalls Abonal's constant reminders: "the process is more important than what you learn:" "grades, while important, are not your life:" " faith is important, as is honesty, and exams are not only to test what you've learned but to test your character as well."
No wonder, the late City Mayor always wanted Greg Abonal among his working team in the local government in his beloved city, "An Maogmang Lugar." Unable to entice his teacher to join the City Council and the Advisory Committee of the School Board beginning 2007, members of these committees all agree that Greg Abonal's participation and contribution to these committees were productive and exceptional.
Having been part of the School Board, Greg Abonal sees many more prospects for the city government to assist the Department of Education in improving education in Naga. He sees fine tuning of the current programs for education but is especially excited about a formation program for school administrators and teachers as foundation for any educational improvement.
Youngest brother to Councilor Esteban Abonal, Jr., Greg Abonal brings to the city both sterling qualifications and intentions in the field of education.
He taught English at the Ateneo de Naga High School beginning in 1970. Among his earlier students were James Jacob, Ulan Sarmiento and Jesse Robredo. He was appointed Principal in 1978 but kept teaching stint with then City Mayor John Bongat among his former students. After 14 years as principal, Greg Abonal left for further studies and returned to teach in the Ateneo College. He was again appointed Principal in 2001 and was tasked to transfer the High School to a new campus in Barangay Pacol and especially to convert the all-boys high school to coeducation, admitting girls beginning in 2003.
He completed his 26th year as high school Principal in 2013, the longest in the Ateneo de Naga by anyone, Jesuit priest or layman.
The latter part of the 80's called for his direct involvement in the affairs of local and national education. Even only as high school principal, he was elected President of the Caceres Educational Conference (Camarines Sur and Camarines Norte) and then of the Bicol Association of Catholic Schools. He went on to be nationally elected to the Board of Directors of the Catholic Educational Association of the Philippines (CEAP), concurrently serving as Regional Director and Regional Coordinator for Bicol, positions normally reserved for school heads and university presidents.
Archbishop Leonardo Legaspi did not hesitate to name him Superintendent of Catholic Schools for Caceres even though he was only a lay person. Again he went further to be designated Regional Coordinator of the Superintendents of Bicol in the national Superintendents' Commission of the CEAP.
These achievements merited for him the Ateneo de Naga Golden Jubilee Outstanding Alumnus Award for Education in 1990. Shortly after that, he was elected to the Board of Trustees of the Ateneo de Naga University and served until February 2012, fulfilling the maximum of four terms (12 years).
Other than his formal studies, Greg Abonal gathered a wealth of knowledge through seminars and workshops and especially in the School Administrators' Program spanning over five years, a course offered at Fordham University adapted for the Catholic schools administrators of Asia and Oceania but eventually accommodated others from Europe and Africa. He also was the lone Filipino and one of three Asians in the 6th Oxford Conference on Literature Teaching Abroad. In the Ateneo de Naga, Greg Abonal is known for being strict, as a teacher and especially as principal.
He explains: "Strictness is not exclusive to Greg Abonal. All the principals before me were strict. All principals after me will be strict. That is the culture of the Ateneo de Naga. In fact, that is the culture of all Jesuit schools, especially in the formative levels of basic education. Character formation for young people requires a caring environment of defined structures and structured procedures that young people must be guided through to adhere to and eventually adopt as their own. Excellence begins with high standards.
High standards can be achieved only through discipline. Look. Our young people here, our students, have been and will be happy about the school environment, climate, and culture. The Ateneo de Naga after all is the original "an maogmang lugar"."