On the morning of the Friday of the Traslación, the Feast of the Divino Rostro is celebrated. The Pontifical Fiesta Mass, presided over by the Archbishop of Cáceres is held at the Plaza de Covarrubias of the Old Shrine. At the beginning of the Mass, the Commemorative Procession of the Divino Rostro is held where the Archbishop, the Vicar General, the Parish Priests of the Cathedral and the Old Shrine, the Rectors of the Minor and Major Seminaries, the Chancellor, and the Oeconomus, carry the Andas of the Divino Rostro from the Church to the Stage of the Plaza.
Succeding Fiesta Masses are celebrated inside the Parish Church beginning at 7:00 AM and every hour thereafter with the last Mass at 12:00 noon.
Notes
The very first Feast of the Divino Rostro in Bicol was celebrated at the Cathedral on September 10, 1882, as a Thanksgiving and as Fulfillment of the Priests' Vow, for the deliverance from the Colera Morbo. At the beginning of that celebration, the Divino Rostro was carried in a procession around the Patio of the Cathedral and into the Church borne by Priests led by Bishop Casimiro Herrero and Fr. Pedro de la Torre, the Bishop and Vicar-General respectively, of the Diocese of Nueva Caceres at that time.
Since 2010, Inâ is brought from the Basilica to the Plaza de Covarrubias to join her Son in the celebration of His Feast. Only after Inâ has arrived shall the Holy Mass begin.
2023 Schedule:
| | | |
| --- | --- | --- |
| DATE | TIME | CHURCHES/ VENUE |
| September 8, 2023 (Friday) | 5:00 AM – 12:00 NN | Old Shrine & Parish of Our Lady of Penafrancia |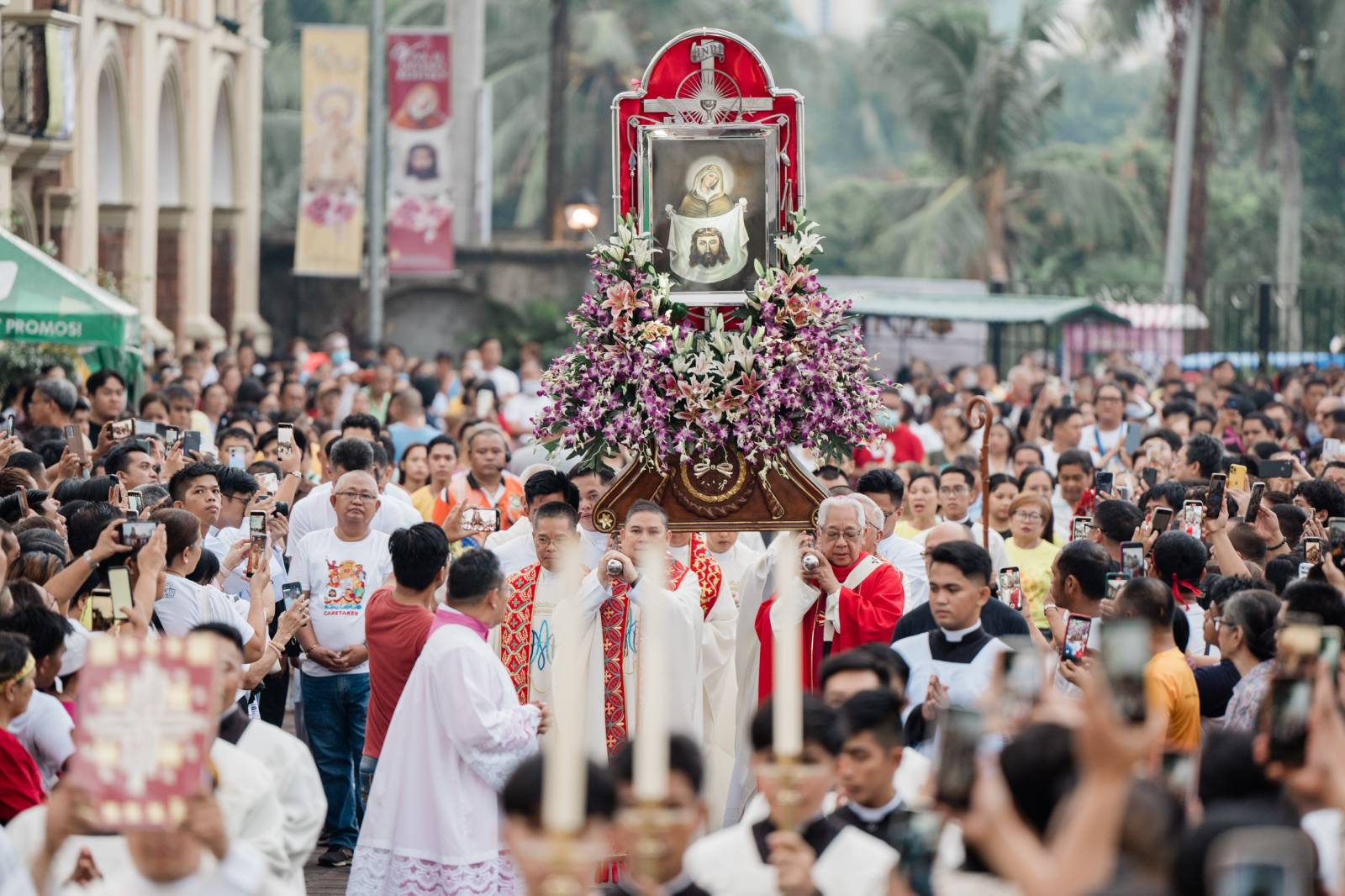 Photo credit: Ramil Herrera (CEPPIO)